Posted on March 11, 2023 by: Rob van der Linde
Filed under: Events
Tags: wainuiomata, marae, kokiri, waka, fundraiser, flooding, koha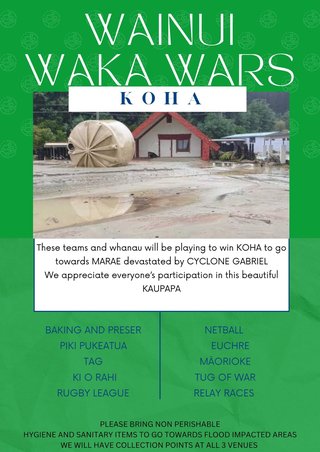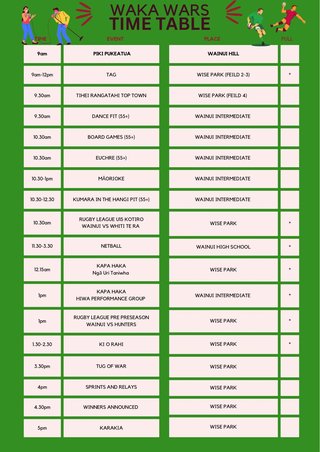 REGISTER IN A WAKA WARS EVENT TO HAVE A CHANCE TO DONATE TO A MARAE IMPACTED BY THE FLOODS!!!!!
If you or your team win one of the following events you can donate to a Marae of your choosing under your name impacted by the floods.
Prize money to be won per event as per below.
1st place = $250 for the following events:
Euchre
Bake off
Preservative comp
Karaoke
Tag
Ki o Rahi
Netball
Tug of War
Relay Race
Wainuiomata Hill Walk
Overall prize will be $5000 for the winning Waka.
So please register to help those affected by the floods, if we don't get enough entries for events we will pull them which is less money to those impacted. For those who don't have the capacity to contribute money to flood damaged Marae this is your opportunity!!!
Note: No team or Individual can keep winnings all winnings must go towards a flood effected Marae.
Registration link: WOA Waka Wars: Registration Form

Information link: WOA Waka Wars: Information

Facebook link: WOA Waka Wars: Facebook Page
PROUDLY SPONSORED BY KŌKIRI MARAE